About Us
Located in the beautiful city of Calgary, our restaurant has been dedicated to offering the most memorable dining experience for you. We pick ingredients carefully and use only the freshest and natural ones to prepare every dish and have been trying to cook them in a healthier way to provide the most nutritious food. Much attention has been attached to ensure you a cozy and inviting ambiance where you can enjoy not only great food but also the authentic atmosphere. Start your meal off right with one of our delicious Dim Sum. We have Steamed Shrimp Dumplings, Shrimp and Pork Dumplings, Mixed Mushroom Dumplings, Shanghai-Style Dumplings and so much more. Once your appetizers are cleared off, it is time to try the main course! Grab one of our infamous Chinese noodles dishes like the Golden Mushroom and Pork Fried Yee Mein, or the Pickled Cabbage and Tender Beef Fried Noodles. The owner and staff of U & Me Restaurant will greet you with the warmest welcome, whether you are a regular guest or joining us for the first time. We have made painstaking efforts to create the tidiest and cleanest dining place and guarantee you with friendly and timely service. All of your demands and feelings will be cared for in our restaurant.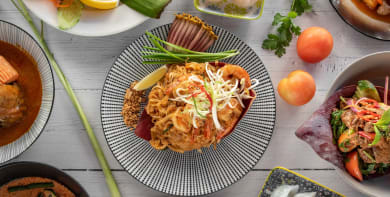 Reviews
Jelena
"Thank you for including the chilli oil for me :) !"
2022-09-24
Jonathan
"you folks are amazing! salt&pepper squid is crunchy. thank you!"
2022-09-13
Sean
"Thank you for the complimentary jelly."
2022-09-12
Jelena
"Got all Shrimp Rice roll instead of Shrimp and BBQ Pork rice roll"
2022-09-09
Menu
Contact Us
Find Us
233 Centre Street South, Southwest Calgary, Calgary, AB, Canada, Calgary, T2G 2B7
Opening Hours
Tuesday
9:00 AM - 3:15 AM
Wednesday
9:00 AM - 3:15 AM
Thursday
9:00 AM - 3:15 AM
Saturday
9:00 AM - 3:15 AM
Please note, delivery times may vary.
We deliver to
T1Y, T2A, T2B, T2C, T2E, T2G, T2H, T2J, T2K, T2L, T2M, T2N, T2P, T2R, T2S, T2T, T2V, T2Z, T3A, T3B, T3C, T3E, T3H, T3J, T3K